A month and a half ago on this blog, I predicted that An Inconvenient Truth would be remembered as the most impactful documentary to date. There was no doubt in my mind that consumer sentiment is shifting towards green products for a variety of reasons – environmental (i.e. concern about the earth), political (i.e. oil conflicts), and sociological (i.e. concern about the crops that are being wiped out in Africa). Here is an interesting quote from BusinessWeek that brings it home, so to speak:
"That American drivers aren't cutting back, and may not cut back drastically even if prices go higher, has huge implications for the world oil market. That's because U.S. motorists are the single biggest consumers of petroleum in the world. They use more than 9 million barrels of gasoline a day. That's roughly a third more than the consumption of all types of petroleum by every home, car, and factory in China, the nation whose energy consumption gets all the attention these days."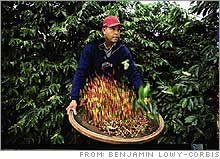 If you read the Fortune article, you will learn that Wal-Mart had Al Gore kick off this initiative. What a great way to spark word-of-mouth inside the massive Wal-Mart employee base (they employ more people than the US Postal Service). If those employees turn into evangelists, you can bet that will "infect" Wal-Mart customers as well.
Wal-Mart's scale is almost incomprehensibly massive. Their scale almost put Vlasic out of business a few years ago. As the corporation of retail corporations, they get their share of negative word-of-mouth, but most of it is among the intellectual elite. The masses are actually very positive on Wal-Mart (because of their obvious low-price focus), and Ed Keller (one of our Board members and the former CEO of Roper) confirmed that Wal-Mart is one of the word-of-mouth marketing elite, right up there with Toyota, Honda, and the iPod.
But this is Wal-Mart's most brilliant word-of-mouth marketing move to date, especially among the intellectuals. Because the intellectuals are the ones that will most appreciate An Inconvenient Truth. And Wal-Mart has the scale to literally force many CPGs to "go green". It is a big blow to Whole Foods, and it will be interesting to watch how they react.
Scale drives business change faster than any other factor. How will you leverage your scale to "go green", spark positive word-of-mouth, explore new niches, and ultimately create higher margin opportunities?
By the way, I may appear to be a "greenie" but I am actually a die-hard technology optimist and believe that entrepreneurs will soon figure out real alternatives to oil given that it is a multi-trillion dollar business opportunity.