"And then it happened – she met Ken, and somehow she just knew they'd be going together." Original Ken debut commercial, 1961
Fashion doll Barbie and her boyfriend, Ken, were made for each other. From his debut commercial in 1961, it seemed the two would be together forever. But in 2004, manufacturer Mattel (client) broke up the couple to focus on Barbie's career development. By 2010, moms and older girls remembered Ken, but many younger girls weren't as familiar with Barbie's former beau.
Coming off the success of the doll couple in Toy Story 3, Mattel saw an opportunity to re-launch Ken with a strong personality—someone more than just an accessory to Barbie. The campaign would tell an interactive love story through a highly-social courtship to bring Barbie and Ken back together. Creating a conversation that drew fans to the campaign was crucial to its success, says Lauren Bruksch, Marketing Director for Barbie and Girls brands, Mattel:
"People don't come to websites anymore – websites come to you."
The brand launched an integrated cross-channel campaign including paid, partner, owned, and earned media. Word of mouth was the filter for all concepts – the team considered how will people would contribute to and share the campaign at every touchpoint.
Owned media: Social brings Barbie and Ken to life
Before the campaign, Barbie already had a strong social presence. The doll talks in first-person on the social web, and her established voice and authentic personality have grown highly engaged fans. She has 2.8 million Facebook fans who interact with the brand 5,000 times per day on average, and 89,000 Twitter followers on her verified account.
Mattel launched Ken on Facebook and Twitter to remind the world that he and Barbie had split. Giving Ken a voice through social created a personality, "making him real for consumers rather than just an accessory," says Bruksch. Through his social networks, Ken announced interest in dating again. Mattel partnered with Match.com in a video showing him searching for new love interests, only to find Barbie.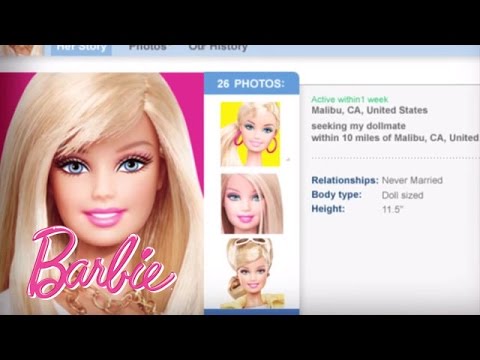 Social became the medium of the love story, linking the various media efforts. Ken checked into places he and Barbie had gone on dates, and tweeted nostalgic pictures of their relationship. Barbie and Ken interacted and flirted on social just as a real crushing couple might – bringing their fans into the courtship and cross-promoting each other's accounts.
Mattel also launched BarbieandKen.com as the campaign's central hub. The site curated live streams of the dolls' social media presences, fan reactions, and all of the supporting campaign media. Throughout the campaign, fans could vote on whether they thought the couple should get back together.
Paid and partner media: Ken woos Barbie to fans' delight
Mattel then launched a paid media campaign including billboards, print ads, and a Times Square takeover – all grand gestures from Ken attempting to win back Barbie's favor. Every ad directed readers to the campaign site to vote. The dolls interacted with the ads through social media – for example, when Ken placed an ad in US Weekly, Barbie tweeted a picture of herself reading it, asking for her fans' advice and directing them to vote at BarbieandKen.com.
In another display of affection, Ken commissioned pink cupcakes in Barbie's honor through Magnolia Bakery. Mattel seeded fake paparazzi pictures of Ken at the bakery, which quickly spread on social media. Through a partnership with Mattel, Magnolia truly launched the Barbie-themed treats – one location sold 500 in the first hour.
At New York Fashion Week, Mattel hosted a party in partnership with Christie's Auction House. Dubbed "Ken: the ultimate dream date for every occasion," the party featured a fashion show of designer-crafted Ken outfits on life-size models, and was named "The Party" of Fashion Week. Other paid and partner media included Genuine Ken, a web-based reality dating show on Hulu, and "Catch me if you Ken" – a driving showcase of human Ken models styled in doll boxes.
Earned media: Fans join the conversation to become part of the love story
The campaign and related social antics were covered by a range of news media, from Mashable to Perez Hilton. Fans of the dolls helped spread the campaign through social. Over 500,000 fans voted on BarbieandKen.com, overwhelmingly supporting a makeup. The couple officially reunited on Valentine's Day, 2011. The campaign site became a celebration site, curating fans' social responses to the reunion.
Throughout the day, "Barbie" and "Ken" were mentioned on Twitter every 18 seconds, and were trending topics in 22 markets. Mattel saw a 1600% search spike for "Barbie and Ken." The campaign helped Ken build a large social following, resulting in 111% Facebook fan growth and 162% Twitter follower growth. Barbie's following grew as well, 34% on Facebook and 39% on Twitter.
Crowdsourcing Barbie's decision to take Ken back gave fans a feeling of investment and co-ownership in the Ken brand, says Mattel's Bruksch. As a reunion day sale, Mattel offered $5 "Sweet Talkin' Ken" dolls on the campaign site, and sold out in just a few hours.
Through the well-integrated and highly-social campaign, Mattel successfully reinvigorated the Ken brand. Paid and owned media together encouraged earned media, always urging consumers to share their opinions and become part of the story. In winning back Barbie's love, Ken managed to win consumers' hearts.